dota2betting.online is a free service website where any Steam owner can log in through Steam, gain access to their Dota2 backpack and then bet on the outcome of upcoming professional matches, alongside providing a stream for the game.

The services offered by Dota2wage extend to more than mild-mannered wagers for item betting. The site is also a middle ground for traders willing to offload any items they don't want, need, or have a use for.
Simply tell the world you own a rare arcana you'd like to trade for item x, y, z. If you aren't a picky user, you can even leave it up to the public to send you an offer.
Dota2wage offers a lot for very little:
An easy-to-use betting system.
An open marketplace to trade skins.
An easy deposit and withdrawal system.
I will go into these more later, but suffice it to say it doesn't take long to fully understand how to delve into the deep world of Steam betting for an absolute beginner.
Things that are lacking on Dota2wage
A normal user has to wait a full week before he can begin wagering skins due to the Steam Guard Mobile Authenticator. This is due to changes by Steam, however, not a problem with the Dota2wage.
The way the website rewards winners leaves no ability to work your way up. If you don't want to incur heavy risk , you won't win big. Items below $1 will usually only pay out in more items under $1. So without betting your arcanas, you won't win any, either.
One final thing to mention about the negatives of Dota2wage is the lack of a "draw option." In leagues such as Dreamleague, it is regular for teams to play a BO2. This leaves the option for a draw, which isn't an option to bet on.
More on skin betting at Dota2wage
Let's go deeper into the betting standpoint of the website.
The depth of games the public can bet on is rather superficial, covering only the major tournaments at this time, and maybe a few tier two games.
Most notably, games from the Sudamerican Cup aren't being screened, although it's possible that could be due to the recent match fixing scandal from team Elite Wolves.
So, you decide to bet on Na'Vi to win against their opponent. You simply click Na'Vi, click which type of bet you want – "quantity" or "value" – and then click the items on your backpack to place the bet, maximum six items.
This easy system of placing the bet is cancelled out by the relative difficulty in understanding the reward system. Odds aren't generated by a mathematical formula, as would a normal bookie, but are created based on the total bet transactions for each team, giving both teams a value multiplier.
For example, a previous bet of mine was the LGD versus NewBee game at the Shanghai Major. LGD were valued at 0.3 and NewBee were valued at 2.6.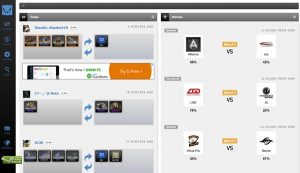 My 0.3 bet on LGD says that the value of the items I bet on LGD will be multiplied by 0.3, and items with a total worth equal to this value – example $1 bet provides $0.3 of rewards – will be given to me.
Quantity bets are where the struggle comes in. Say, for example, my 0.3 bet on LGD contained six uncommon items.
You multiply the number of items by the value of the bet – 1.8, the product of 0.3 and 6 – to get your outcome. 1.8 means 1 uncommon item, and 0.8 of a second.
This means an 80 percent chance of getting a second uncommon item.
With value bets the numbers work out easily, and become your only real chance of getting higher value items, although that chance isn't high.
The quantity betting keeps the item rarity, meaning you would have to bet immortals to get immortals back, and the risk of losing it compared to the gain does not make it worth the shot.
What will using Dota2wage cost the user?
The nice part about the website is that it is free to use, even to the point of not needing a registration. You simply sign in to Steam and you are ready to gamble your skins.
They don't take a vig from trades or bets. They don't cut winnings as a service cost. Although the FAQ states they aren't the bookies, the whole idea of instant deposit, free gambling services are a staple across the board.
So the website makes money from bets the same way any other company does. While a few Dota2 skin betting websites follow this rule, the free service is obviously better than those where the house takes a cut, for example gosugamers.net.
Customer service at Dota2wage.com
Sometimes things go wrong. Sometimes you just don't understand and need clarification.
Dota2wage has a few channels for customer support:
The website offers an FAQ section for newcomers to peruse. It goes over how the website works, the trades and betting sections, and where to go if a bet breaks, items can't be withdrawn, or something more general comes up.
A direct contact us page where you can enter your email address and any query you come up with.
A missing items form where you can fill out extensive details to recover any items the website could have misplaced.
I came up with a few queries to test customer response time, namely "How does a quantity bet work?" and "Why I can't place bets until 7 days after the Mobile Authenticator?"
Fortunately, I haven't ever had a problem with missing items so I haven't used the missing items form.
Searching the FAQ gave me plenty of information on all the betting systems, which was exactly what I wanted. Now, the return on my customer query wasn't too untimely, having a same day reply, albeit having to wait several hours.
It means a casual bettor will probably miss some games if their problem stops them placing bets. With regards to the content of the message, after asking why I couldn't place bets Dota2wage customer support sent me the error message they were receiving, as well as links to Steam forums explaining the problem and how to sort it, which is very impressive indeed.